We've all got one. The computer bag. The geek sack. The nerd purse. Full of mysterious wonders and trinkets. Mine got a few new additions today adde to the list of things that I almost always need at a meetup or weekend nerd camp.

Rosewill
SATA

/

IDE

2.5/3.5 to

USB

Adapter

Best case scenario you need to copy and old drive to a new one to upgrade. Worst case you get the "my hard drive/computer is dead and I don't have backups" phone call from a relative. In my case, I need to wipe a lot of old hard drives securely before recycling the hardware. In any case, being able to connect darn near any

IDE

/

SATA

device to your

USB

port can be bad on the road.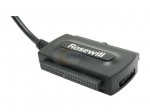 http://www.newegg.com/Product/ProductReview.aspx?Item=N82E16812119152

PPA

4 Port

USB

Squid

While my laptop has 3 ports, by the time I slap a mouse, ipod and keyboard on that, I'm out of luck if I need to attach a drive. IF it's not me, it's someone else. Just a good all around thing to have.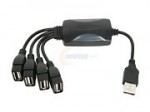 http://www.newegg.com/Product/Product.aspx?Item=N82E16817155029

Philips Retractable
USB

2.0 Adapter Kit

Type A. Type B. Mini A. Mini B. Micro AB. Micro B. Lions, Tigers and Bears! Cameras. Phones. Drives. Card Readers. Only 1 cable needed and throw away the others (except for the ipod cables. Damn you Apple!).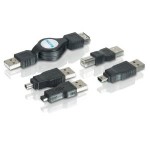 http://www.amazon.com/Philips-SWR1249-17-Retractable-Adapter/dp/B002R5AMD6/

Logitech Laser Nano 450 Mouse
Not too small for a notebook mouse. Not as bulky as a normal mouse. Scroll wheel w/side to side scroll wheel buttons. Always need a mouse, or someone else always forgets theirs.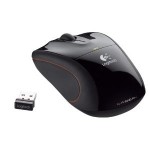 http://www.amazon.com/Logitech-V450-Cordless-Laser-Mouse/dp/B00165XQWW/

Western Digital MyPassport
Nothing brings a nerd development weekend to a halt quicker than completely borking your system. Keep a portable drive with you. Keep Time MAchine up to date. And keep an
OSX
disc with you. Reinstall/retore and you're back in business.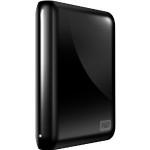 http://www.amazon.com/Western-Digital-Passport-Essential-WDBABM0010BBK-NESN/dp/B002OB49SM/

GE In-Ear Headphones w/Inline Mic
In normal mode, you can use these to listen to your tunes and rock out some code. In crisi mode, you're phone has died and these double as a mic to use with Google/VoiP/Gizmodo.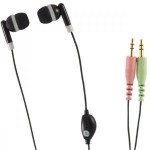 http://www.amazon.com/26695-Voip-Headset-Inline-Microphone/dp/B001DL8WIC/

Monster ScreenClean
A clean laptop screen is a happy laptop screen. Be the most popular person at the table.
http://www.amazon.com/Monster-CLNKIT-Alcohol-Free-ScreenClean-Traditional/dp/B000068P8W/

Power Strip
I usually leave this at home except for the long weekends or crowded meetups. You can never go wrong with a power strip.