Long story longer. My good friend Ron from $work came over yesterday to help me setup the drumset. He, and my wife always prod me that I should start playing again, and honestly it's a good form of exercise; something I need but will never do.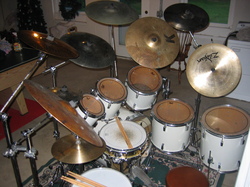 Well, the drums are setup but for the life of me I couldn't find the the power cord for the CD player for play-along sessions. Well, hey, it's the 21st century. Time to get something that I vowed to never get: an MP3 player. I'm not a big fan of the iPods, mostly because I'm just not into iTunes. I just want to drag my files over and have a go at it.
While I was at Wal-Mart, I got to look at the Samsung MP3 that I found online today. 2GB. FM. USB-stick sized and you just stick in the USB port and drag files over. It even supports Ogg. $80 later and I have one. Damn small. Damn nice. Way cool.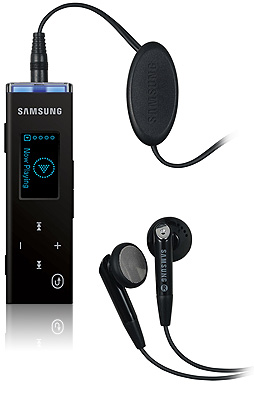 Game on. Oh yeah, there are 4 mores drums to that kit that aren't even setup. :-)