Last October my Comcrap lappy died and I was forced to purchase another lappy.
I stumbled upon Alienware laptops, which have tons more horsepower than standard laptops at the time, but their price was nasty. I then learned of Sager notebooks which were the same hardware without the overpriced paint jobs. Then I read some reviews and found a great reseller: PowerNotebooks.com from which to purchase my Sager 5660. Their service and staff were awesome compared to everything I've experienced in the past from BigCos.
Well, they've done it again. Today, albeit a little late, I receive the 2004 calander/photo/holiday card from the staff at PowereNotebooks.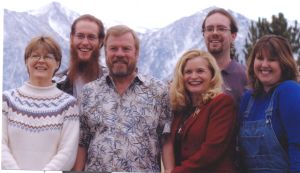 (Left to right: Jane, David, Donald (my rep), Charlote (sp?), Joel, and CJ)
Many other hardware AND SOFTWARE companies could learn a lot from this practice: make me fell like a known customer, not a customer number.
And the photo is a real photo. None of that mass color copy computer printout stuff neither. My hat's off to PowerNotebooks. When it's time to buy that 4Ghz 2Gb Ram laptop, They'll get my business.