Lord knows how long it's going to take me to figure out all the settings on this camera. The fact that I know jack squat about the art of photography isn't helping. :-)
Put down that camera and pet me!
The classic Isis stare. She always thinks that if you're not holding her, there is definately something wrong with you.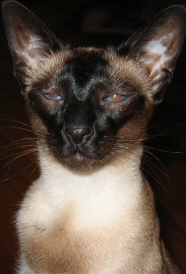 Ye Olde Pot Rack
Here's the pot rack I put in for Margeaux a while back. And hanging from it are the new copper/stainless pots and pans we just got for it.