I think the only thing I trust less than most car salesmen are furniture salesmen.
We're in the market for new furniture in the livingroom. The cats have schredded the lazyboy double recliner. Nothing shocking for cats with claws, and so far, it's the only thing they have clawed.
We're looking for something that's mostly wood with the exception of the cushions. It's easier to have cushions reclothed than have an antire couch redone.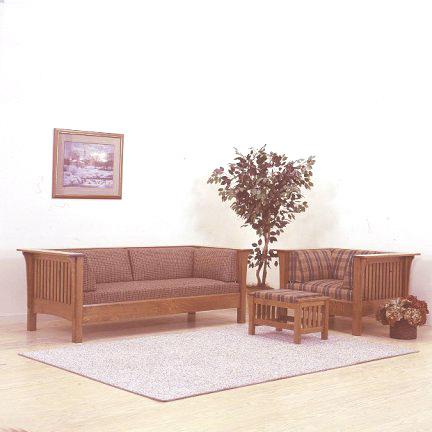 We found a great custom made Amish mission style sectional at one of the local furniture stores, but man it was horribly expensive. It was about $2800 for each piece (3 seat) of the sectional. Ouchie! Now greanted it was solid as a rock, and made of Hickory, but the last thing I want is another large debt just for furniture.
On a whim, I stopped buy another local shop: Amish Valley Oak Furniture. Great place. I love AMish made furniture. It's 100% solid wood. Stuff that lasts a lifetime. They had some mission style couches and chairs in ctalogs, but nothing in the store (although they had lots of furniture there). Their prices were lower; affordable even. :-)
They Margeaux found Amish Oak online. Their prices complete kick the ass of the local place, and they even have the very same mission style couch we want. Even better is the fact that they have a showroom and it's only about 60 miles or so away. Road Trip!!!!!
Now the fun part starts tomorrow night: confronting the local shop on why their prices are so high for the same thing. :-)
There is also a mission style Morris Chair. It's a manaul recliner of sorts. There are pegs in the back that you raise or lower to alter the recline of the back of the chair. Of course there's a matching Ottoman as well.